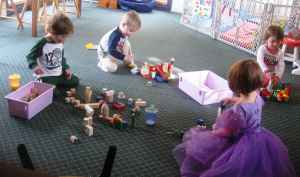 GreenBaby Home Daycare is interviewing for an opening on Mon/Wed/Thurs from from 8am-1pm either one, two or three days for an infant, toddler or preschool.
Pefect situation for SAHM looking for some social interaction for her child or some alone time. GreenBaby Home Daycare is a licensed program that provides high quality childcare through the utilization of organic and all natural resources, practices and products. Hours of operation are Mon, Wednesday and Thursday from 7am to 1pm but extra hours are available. I am closed all recognized holidays and for July and August. Hourly tuition includes snack and lunch. I only charge for actual hours of care (some restrictions apply).
I serve predominantly organic/all natural food and use non-toxic products in my home. Daily curriculum includes activities to promote all areas of development and I do not use television in my program. I have a Bachelors degree in early childhood education, experience as an infant, toddler and preschool teacher and am the mother to two girls ages 8 and 4 years old.
I am certified in CPR and first aid and have experience working with children with allergies. I was the first daycare in the state to be certified as Eco-Healthy by the Oregon Environmental Council. Eco-Healthy Child Care is an award winning program that improves the environmental quality of child care facilities. There is a beautiful fenced yard for outdoor play.
Please contact me at greenbabydaycare@live.com or visit my website, www.greenbabydaycare.com, for more information.